Main content starts here, tab to start navigating
Menus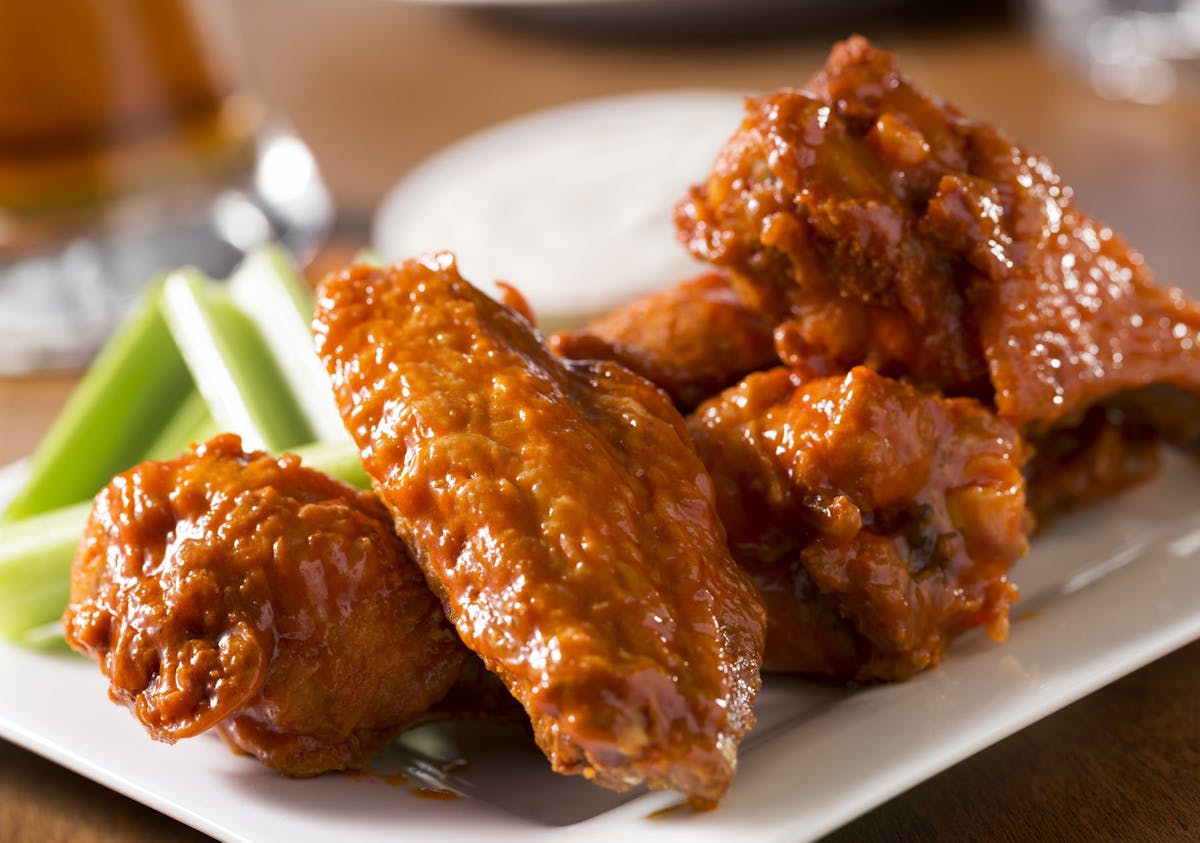 QUESADILLAS
CHICKEN

Cheddar, provolone, peppers, mushrooms, onions, tomatoes, and grilled chicken served with sour cream and salsa.

VEGETABLE

Cheddar, provolone, peppers, mushrooms, onions, and tomatoes served with sour cream and salsa.

CHEESE

A combination of cheddar and provolone cheese served with sour cream and salsa.
STARTERS AND SNACKS
PICKLE CHIPS

Hand-breaded pickle chips served with ranch dressing

LOADED POTATO SKINS

Four fresh potato skins loaded with cheddar cheese & bacon and served with sour cream and chives.

PRETZELS AND CHEESE

Soft pretzel bites served with house-made cheddar cheese beer sauce.

Extra beer cheese $3

SLIDERS

Buffalo Chicken or burger sliders served with cheese and a pickle slice *Pairs of two, no mix and match

CHIPS AND SALSA

Tri-colored chips served with home-made salsa

POPCORN SHRIMP

Six ounces of batter and fried, or grilled shrimp served with house-made chili aïoli

MOZZARELLA STICKS

Six battered mozzarella sticks served with a side of homemade marinara sauce

JALAPEÑO POPPERS

Jalapeño peppers are breaded, fried, and loaded up with cheddar, bacon, sour cream, and green onions served with a side of reaper sauce

CREAMY GOUDA CHEESE BITES

Served with ranch dressing

HOUSE BATTERED ONION RINGS

Hand-cut, double breaded onion rings served with a side of chili aioli
NACHOS
NACHOS

Topped with cheese, lettuce, fresh Jalapeño, tomatoes, green onions, and sour cream. Large or Small

Add black beans $0.50

Add grilled chicken $3.50

Add chili $2.50

Add both $5
WINGS
Wing options: ranch or bleu cheese
SPLIT SAUCES

Only on large boneless or 12 traditional

BONELESS

Small (8 ounces)

Large (12 ounces)

TRADITIONAL

Order of six or twelve

ALL FLATS

$1 extra limit to 12 traditional
Sauces
HOT

CAROLINA REAPER

$0.50

spicy

RED HOT

spicy

BUFFALO

ALMOST THERE

spicy

NOT SO HOT

HONEY BBQ

TERIYAKI

SPICY DRY RUB

$0.50

LEMON PEPPER (DRY RUB)

CAROLINA TANGY GOLD

A LITTLE EXTRA

GARLIC PARMESAN

$0.50

SWEET CHILI

MANGO HABANERO

$0.50

EXTRA SAUCES AND SIDES

$0.50
All sandwiches and burgers are served on a toasted bun with lettuce, tomato, and onions
BURGERS
JOES 1/2LB CHEESEBURGER

An old family recipe for a perfectly seasoned, hand-patted lean ground chuck, served on a toasted bun with lettuce, tomato, onion, and American cheese.

THE FOLLOWING CAN BE ORDERED AS A BURGER, OR AS A CHICKEN SANDWICH

Spice it up: substitute ghost pepper jack cheese $0.50

Burgers cooked to temperature and can be grilled or blackened

Birds can be grilled, fried or blackened

THE REGRET IT

Bacon, ghost pepper jack cheese with sautéed jalapeños

CAROLINA PANTHER

Topped with American cheese, bacon, and ranch dressing

MUSHROOM SWISS

Who doesn't like sautéed mushrooms and Swiss cheese?

RODEO

Smothered in BBQ sauce and cheddar cheese, topped with a gigantic double battered onion ring

BLACK AND BLEU BUFFALO

Blackened choice of protein then top it with bleu cheese crumbles and buffalo sauce

BACON CHEDDAR

Exactly how it sounds
SANDWICHES
CHICKEN WRAP

Grilled, fried or blackened chicken breast served in a wrap with lettuce, tomato, and provolone cheese toss it in your choice of wing sauce

JOE'S RACHEL OR REUBEN

Turkey or lean pastrami with sauerkraut, Swiss cheese, and thousand island dressing served on marbled rye bread.

TWO CORN DOGS

Served with choice of dipping sauce

HOT DOGS

Two all-beef hot dogs with a choice of toppings. Toppings include ketchup, mustard, or relish.

Add bacon

Add home-made chili

Add cheddar cheese

CHICKEN PARMESAN

Grilled or fried chicken topped with house-made marinara sauce and provolone cheese on a hoagie roll

JOE'S TURKEY CLUB

Turkey, bacon, and Swiss cheese stacked on sourdough bread topped with lettuce, tomato and ranch dressing

GAME DAY CHEESE STEAK

Philly steak, provolone, sautéed onions, and bell peppers are served on a hoagie roll

MINI KRIZZY

Ham, turkey, and American cheese. Topped with lettuce, tomato, onion, green, and banana peppers served on a hoagie roll. Splash it with seasoned oil and vinegar.
BREAD SUBSTITUTIONS
ITALIAN

HOAGIE

MARBLED RYE

SOURDOUGH

FLOUR TORTILLA
EXTRA CONDIMENTS
KETCHUP

MAYONNAISE

SWEET RELISH

YELLOW

SPICY MUSTARD

OTHER TOPPINGS

Extra cheese $0.50

Bleu cheese $0.50

Cherry or jalapeño peppers $0.50

Sautéed onions $0.50

Mushrooms $0.50

Bell peppers $0.50

Combination of sautéed mushrooms, onions and peppers $1

Combination of bacon and chili $2.50
A TASTE OF PITTSBURGH
HOME-MADE PIEROGIES

Four pierogies, stuffed with potato and cheese, served on a bed of sour cream, topped with onions, butter, and chives

$8.50

Extra sour cream $0.50

PIEROGI MEDLEY

Your choice of any four available

Prices vary

PRE-ORDER BY THE DOZEN FOR YOUR FAMILY GATHERING

Please give us 48 hours' notice

Prices vary

STEELWORKER STACK

Your choice of grilled chicken, turkey, Isaly's chipped ham, pastrami, Philly steak, topped with provolone cheese, french fries, steelworker slaw, and tomatoes stacked between two slices of toasted Italian bread.

Chicken or turkey $3.50

Ham $2

Philly steak $3

Pastrami $4.50

Fried egg $1.50

ISALY'S CHIPPED HAM

Sliced extra thin and served hot or cold on a toasted bun with lettuce and tomato and American Cheese

TURKEY DEVONSHIRE

A hot, open-faced sandwich consisting of toasted sourdough bread topped with turkey, bacon, and house-made cheddar cheese sauce. Does not include a side.

PITTSBURGH SUPREME SALAD

A blend of mixed greens topped with a hardboiled egg, carrots, tomatoes, cucumbers, sautéed onions, shredded cheddar cheese, grilled chicken, and french fries.

Substitute shrimp $2.50
IMPORTED FROM PITTSBURGH
$1 off the Pittsburgh food menu all day Monday
IT'S WHAT'S FOR DINNER!
MAC & CHEESE DINNER

Bowl of our homemade cheese sauce with elbow macaroni.

Add grilled, blackened or fried chicken $3.50

Add shrimp $5

SHRIMP AND CHIPS

Shrimp battered and fried. Served with house-fried chips or french fries, and a small side of tartar and cocktail sauce.

SIZZLING FAJITAS

Peppers & onions fried up with your choice of chicken or shrimp served sizzling hot. Comes with tomatoes, shredded lettuce, cheddar cheese, and three flour tortillas. Veggie; Chicken; Shrimp; or Shrimp and Chicken

Add jalapeños $0.50

Add sour cream $0.50

Add salsa $1

NEW ORLEANS STYLE SKILLET

Bourbon spiced shrimp and chicken sautéed with mushrooms and onions served sizzling hot with parsley red potatoes.
SOUPS AND SALADS
HOUSE SALAD

Mixed greens with tomatoes, cucumbers, onions, and carrots. Small or Large

Add chicken $3.50

Add shrimp $5

Add cheese $0.50

SOUP OR CHILI

Soup of the day or Chili with cheddar cheese, sour cream, and chives. Cup or Bowl

CAESAR SALAD

Crisp romaine lettuce tossed in Caesar dressing topped with parmesan cheese. Small or Large

Add chicken $3.50

Add shrimp $5

Add cheese $0.50
FANCY SALADS
FIESTA SALAD

Mixed greens, tomatoes, cucumbers, black beans, cheddar cheese, and spicy red pepper chicken topped with tortilla strips.

CHEF SALAD

Top our garden salad with Isaly's chipped ham, turkey, boiled egg, and cheddar cheese.

PHILLY STEAK SALAD

Philly steak and cheese with sautéed mushrooms, onions, and peppers placed on a bed of lettuce, topped with tomatoes.

DRESSINGS

Balsamic Vinaigrette

Raspberry Vinaigrette

Bleu Cheese

Caesar

Honey Mustard

Oil & Vinegar

Ranch

Buffalo Ranch

Thousand Island

Zesty Italian
ALA CARTE SIDES
FRENCH FRIES

$3.50

POTATO CHIPS

$3.50

VEGETABLE MEDLEY

$3.50

CURLEY FRIES

$3.50

PARSLEY RED POTATO

$3.50

TATER TOTS

$3.50

RANCH

$0.50
MONKEY DRUNCTION
MONKEYPUNCH

Coconut, pineapple, and banana rum mixed with pineapple and orange juice, topped with Myers dark rum.

MONKEYDEATH

A concoction of sloe gin, southern comfort, Vodka, triple sec, amaretto, lime juice, and orange juice in a cocktail.

JACKEDMONKEY

Jack Daniel's Tennessee Whiskey, triple sec and sours shaken with a splash of sprite
HOUSE WINE
WHITE

CHARDONNAY

Glass $5.99

PINOT GRIGIO

Glass $5.99

RIESLING

Glass $5.99

ROSÉ

Glass $5.99

SAUVIGNON BLANC

Glass $5.99

WHITE ZINFANDEL

Glass $5.99

RED

CABERNET

Glass $5.99

MERLOT

Glass $5.99
BEER
DRAFT BEER

160z or 230z Drafts

BLUE MOON

GUINNESS

MILLER LITE

MICH ULTRA

PACIFICO

RED OAK

TROPICAL LIGHTENING

YUENGLING

BOTTLE BEER

BUD LIGHT

BUDWEISER

COORS LIGHT

HOPPYUM IPA

LABATT BLUE

MICHELOB ULTRA

MILLER LITE

PBR

CORONA EXTRA

CORONA LIGHT

CORONA PREMIER

DOS EQUIS AMBER

DOS EQUIS LAGER

HEINEKEN

NEW CASTLE

RED STRIPE

STELLA ARTOIS

STELLA CIDRE

TWISTED TEA

WHITE CLAW SELTZER
BEVERAGES
MILK

8oz glass (no refills) $3.50

ORANGE JUICE

8oz glass (no refills) $3.50

CRANBERRY JUICE

8oz glass (no refills) $3.50

PINEAPPLE JUICE

8oz glass (no refills) $3.50

GRAPEFRUIT JUICE

8oz glass (no refills) $3.50

COKE

$2.50

DIET COKE

$2.50

SPRITE

$2.50

SUN DROP

$2.50

GINGER ALE

$2.50

LEMONADE

$2.50

Mr. PIBB

$2.50

SWEET OR UNSWEET TEA

$2.50

HOT COFFEE OR TEA

$2.50
DESSERTS
Brownie Sundae

Topped with ice cream and a cherry!

$5.50